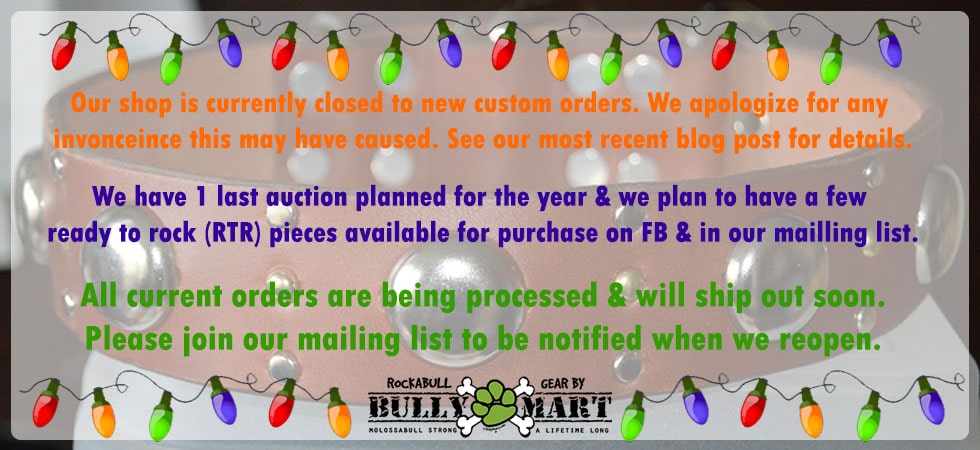 WHAT'S HAPPENING?
It is with a heavy and anxious heart this year that I decided to close up shop for the end of this year.
HOW DOES THIS IMPACT YOUR ORDER?
It doesn't. :) All orders that have been placed will be processed as normal and will arrive in time for Christmas.
WHY?
I have thought very long and very hard about the future of my little business I started 17 years ago now. Believe me when I say that I did not come to this decision lightly. But, if I was to be completely honest with myself, there is some very much needed recalibrating required if I am going to keep moving forward with Bully Mart.
Somewhere along the way I let this little idea get out of control and let it take the lead. It's kinda gone wild from there. I need to stop to catch my breath, pull in the reins or rather leash the beast, & get this back under control.
THE REST OF THIS YEAR
We are planning 1 more Auction this year for certain in our Bully Mart Collars - Auctions & Events Group.
We also do intend to have some RTR items up for grabs on our facebook pages. However, with that said sometimes our intentions are derailed by something unexpected so I can't promise that for 100% certainty.
WHEN WILL WE REOPEN?
At this time I cannot say when we will reopen to custom orders. Only time will how much time this recalibration will require.
I have to admit this is a very scary thing for me to have decided but I know it must be done. At this time I have no planned date for reopening to custom orders but I will absolutely keep everyone posted.
IN THE MEANTIME YOU CAN...
Like us on Facebook and follow us on IG to keep an eye on things here during this shop closing.
You can also join our mailing list here to be notified when we return:
%%Panel.SideNewsletterBox%%