Thank you for your interest in Bully Mart. In business since 2001, our mission is to provide the strongest & most flatteringly attractive handmade custom dog supplies all the while giving back to resuces in our Bully & Molosser community.
We are a small family of 8 run business based out of "middle of no where" DFW Texas, USA on a 2.5 acre Micro-Farm. We currently share our home with our fur kids (our Cane Corso & French Bulldog), and feathered ones too (a growing flock of chickens), with near plans of adding a few horses, goats, rabbits, and perhaps even a piglett or two.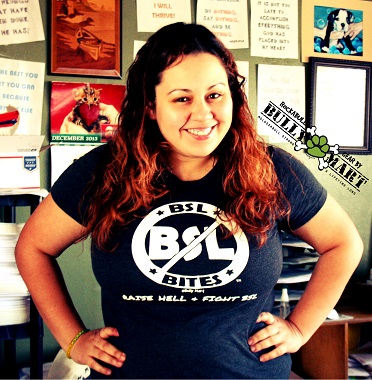 My name is Xavi

(pronounced Zay-Vee)

, Lead Artisan Collar Crafter, Animal Lover, Mother of 6, and Wife. Often times I am the solo operater grinding behind the scenes, however I am pleased to say that the older my kids are getting the better trained they are becoming and slowy taking over tasks that were once left for me to do.
I make every single collar one at a time by hand at time of order. My passion for animals has led our family down this path. I am forever adjusting to make your dog collar shopping experience with us and on our site as unique and enjoyable as possible.
Michael, my best friend, partner in crime, and father to our 6 crazy ass kids is head of Shipping Operations, ensuring your package gets packed up nicely and off to the correct destination. He is also our on call Musician & the Head Chef around here and a damn good one too. If you follow us on Facebook or any other social media platform you have likely heard a tale or two of some kick ass grub he prepared for us.
Lebca, (Caleb) our Son, our eldest and my go to Photographer, Puppy Tug Assembly Manager, & Chicken Wrangler. He is in charge of most day to day photographs, product images, Daily Deal & Auction photos. He is also our Grade A Puppy Tug assembler teaching his younger Sisters the ropes. Lebca is my right hand guy when it comes to farm chores.
Update 1/15/2015:

He has started to learn how to use the head knife. Little by little I am building my team.
Riah
, (Azariah) our eldest Daughter and EXTREMELY talented leather paint artist. If you have a Vivid Painted name dog collar, chances are she is the gal that painted your collar. She has a real eye for attention to detailed design, and color coordination. She is lerning the ways of Puppy Tug crafting. In her spare time you can find her writing and performing her songs. The girl can SANG.
Ezri
, (Ezriel) our Daughter and equally talanted minime. She is a sponge this one and has a REAL talent for organization. She can pick up most of what I can do just by watching me do it. While she is currently only 9 years old (as of 8/2014) she is expanding her knowledge base more and more each day. She currently helps paint auction items and our Bully Kids Bracelets alongside her Sister. She too has a GREAT eye for attention to design detail.
Elias
, our Son, is one of our best puppy walkers and chicken ranglers on the farm. At the ripe old age of 8 (as of this post 8/2014) he is just about as strong as our eldest already. He is the go to guy when you want or need something done with complete and utter entheusiam around the house. He has started to learn leather painting but primarily helps out with odd jobs around the house and workshop.
The Zion
, our Son, he is a special one he is. Often times you can find him lost in his own thoughts. He is our grumpy old man in the body of a little boy. He very much enjoys keeping me company with conversation about his latest Homeschool lesson or Power Ranger episode. He is also the resident reporter. He is sure to keep up with what everyone else is up to and reports back to me the happenings of the day... just in case I missed them.
Sir Izaac
, our Heart Warrior Son, he is absolutely everything a toddler should be. Thank goodness he is the last one born otherwise we might not have made it to 6. He is the truest of true spitfires that answers to the tune of only his drum. He was born with a broken heart and fought like hell to live. He is a strong little boy that helped us put everthing into great prespective. He is our heart warrior that has taught us more about life than anything else ever has.
He helps around the workshop with quality control. If he see something that is not up to par you will find him snatching it and running off hiding it somewhere forcing me to recreate the item. :)
We all play an active role in dog rescue and rehabilitation and have been donating a portion of every single purchase to animals in need each month since the birth of our business, before it was the "COOL" thing to do. Often times you can find our home shared with a few fosters and rescues looking for their forever families.
===========================================================
You can contact us at the following:
===========================================================
Checkout what our Awesome Customers are saying about Us: